Launching our Codesmith Career Support Scholarship
Standing out as a talented engineer takes both your underlying engineering capacity and, frustratingly at times, approaches to ensure your engineering ability is perceived at that same level.
As part of Codesmith's Software Engineering Immersive program, alums receive access to Career Support Engineer (CSE) sessions to support them in that. During these 1:1 sessions, available to alumni for their first job search and beyond, CSEs provide technical interview prep, resume feedback, and algorithms/data structure and system design practice.
We're excited to expand the impact of our CSE sessions by awarding 5 Codesmith Career Support Scholarships to serve folks outside of the Codesmith alumni community with a significant need and who have contributed to their engineering or learning community (as part of a coding school, free online program - e.g. 100devs, college, etc.).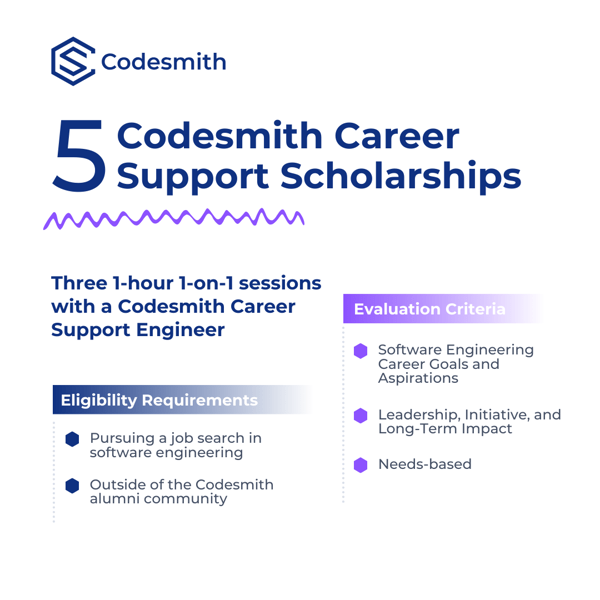 Inspired by one of our current CSEs, who was already providing mentorship beyond the alumni community, scholarship recipients will receive three one-hour one-on-one sessions with a CSE. We've hired three additional CSEs to support our alumni and added this small pro bono contribution.
We value contributing to the broader engineering community through our free workshops and learning resources and we're working on bringing back our 'How to get Hired' workshop. In the meantime, we hope these 1:1 sessions can be an additional resource.
Learn more about the scholarship and apply via the Codesmith Career Support Scholarship Application. Don't hesitate to reach out to Annie, our Director of Developer Relations & Outcomes, on CSX Slack (@Annie - Codesmith) as you prep your scholarship application!