Codesmith's Commitment to Diversity, Equity, & Inclusion
Codesmith was founded with the mission to provide accessible software engineering education and develop software engineers who are technically brilliant, collaborative, supportive, and passionate about pushing the engineering community forward.
Since 2015, we've continuously worked to drive forward initiatives that support the Codesmith community in driving forward a more inclusive and empathetic generation of software engineers.
SUPPORTING THE CODING COMMUNITY

Codesmith provides a number of free online JavaScript learning resources, from the weekly workshops to CSX, our online learning platform. As you build your coding skills, you can also build a support network of learners like you to lean on as you progress in your JavaScript journey. We've seen countless coders collaborate with one another to solve coding challenges, and even attend our workshops together to practice their skills!

Every Wednesday, women, trans, and non-binary coders are invited to join our Wednesday Women's Workshop series. Led by Codesmith's female instructors and mentors, these workshops offer a safe and welcoming environment for community members to build their code. As part of our women's initiatives, we'll also bring in speakers to highlight women making a difference in technology. In the past, we have hosted engineers, data scientists, and female entrepreneurs disrupting their industries.
Whether running through a line of code, discussing important topics and sharing insights, or developing real relationships over a Wine & Cheese Night, these events are designed to foster an open and welcoming environment for the women and non-binary members of the community to provide one another with an added level of support.
Codesmith also offers AllGirlRithm events, which are designed for past, current, and incoming Codesmith women to come together and discuss the impact of women in the tech industry, and support each other as they develop their technical skills. Attendees work on algorithms, white boarding, and coding challenges together, then engage in a fireside chat and mentoring sessions with female software engineers.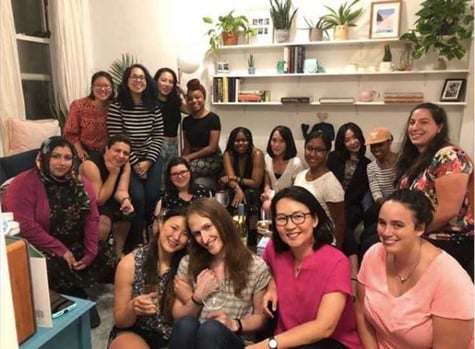 "When I first started programming, I was easily intimidated and constantly overwhelmed with so many new concepts. I'm grateful for everyone who helped me along the way and knowing the impact they had on me, I wanted to pay it forward and help others... It made me happy when [my mentee] got into CodeSmith and I'm excited to continue on helping her in her journey."
Alice W., Codesmith Graduate & Mentor
As they apply for the program, women and underrepresented minorities in tech are invited to participate in Codesmith's Mentorship Program, which serves as an additional layer of support as they progress through their Codesmith journey - from the admissions process to in-program, and even beyond graduation!
RELATED: HOW MY CODESMITH MENTOR HELPED ME ON MY PATH TO BECOMING A SOFTWARE ENGINEER
MAKING SOFTWARE ENGINEERING EDUCATION MORE ACCESSIBLE

Codesmith is committed to providing top-tier software engineering education to all those driven to excel within and make a positive impact on the tech industry. The community welcomes people coming from all walks of life. Codesmith offers several scholarships and collaborates with partner organizations to offer scholarships for women, minorities in tech, those identifying as LGBTQ+, and veterans.
In 2020, Codesmith expanded upon the Minorities in Tech scholarship to develop the Black Engineers at Codesmith Scholarship which covers 100% of tuition to our Software Engineering Immersive programs for its recipients.
RELATED: BLACK ENGINEERS AT CODESMITH SCHOLARSHIP - MEET CHRISTELLE
Through cross-organizational partnerships, Codesmith is able to provide additional opportunities to support underrepresented communities in the tech space. Partners include Lesbians Who Tech, Women Who Code, Women in Tech, STEM Advantage, We Build Black, Shift, and Oddball. With the expansion of our program offerings, we strive to constructively build upon partnership offerings to better support the coding community.
FOSTERING A SPACE FOR CONTINUED LEARNING & GROWTH

As the Codesmith community continues to grow, we reflect on opportunities to improve the program from every angle, including how we conduct ourselves. Codesmith formed a Diversity, Equity, and Inclusion (DEI) committee to promote and drive initiatives adhering to Codesmith's commitment to DEI, fostering an environment where everyone can be their most authentic selves. The committee's work focuses on and is committed to ensuring and maintaining a diverse, equitable and inclusive workplace, as well as an academic environment where all team members and students are welcomed and valued.
We strive for industry excellence by allowing all individuals to show up, speak up, and contribute their best each and every day.
Codesmith facilitates implicit bias workshops throughout the Software Engineering Immersive program curriculum, helping them gain a deeper understanding of each others' backgrounds and perspectives as they prepare to work with one another, and teaching them how they can support equal opportunity for oppressed communities as they rise to influential positions in their careers.
Monthly Lunch & Learn sessions provide a team-wide platform through which we can promote continued learning and growth, and facilitate open and honest conversations around topics of diversity and inclusion. Past discussions have centered around representation in mainstream media, identifying implicit bias and its impacts on us and those around us, and celebrating the agents of change whose legacies continue to influence us today.
We are proud to support underserved communities in the tech space through our Diversity, Equity, and Inclusion initiatives, and while there's still a lot of work to do, we look forward to reaching these goals together as a community.