2019 In Review - New Online Resources, Curriculum Updates, New Partnerships, Diversity and More!
Happy New Year! As 2020 kicks off, we want to take some time to reflect on Codesmith's biggest moments in the past 12 months and say thank you for being part of our Codesmith family.
2019 was a year of incredible growth for us at Codesmith from expanding our online resources and programs, providing accessibility of quality software engineering education to people from different backgrounds, expanding our community of empathetic and aspiring engineers and so much more! We are so proud of all of the growth and couldn't have done it without you.
EXPANDING OUR ONLINE OFFERINGS

To help all the aspiring software engineers in our community start their coding journeys, we launched our first-ever, complete beginners course JavaScript for Beginners. Over 100 new coders finished the course in 2019 and left with a strong foundation of JavaScript concepts, confidence, and a new community to continue their journeys of career transformation.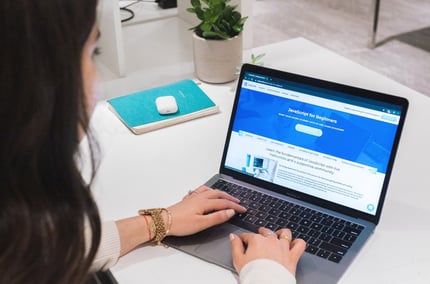 In addition to our beginner course, we also recently launched the Part-time Remote Software Engineering Immersive BETA program, as there was a big demand for a remote version of our top-rated Software Engineering Immersive program. This new, 38-week online program allows those from anywhere in the world, and those not able to leave their full-time jobs to enroll in our program to launch a successful career in full-stack web development. We are so thrilled for the first BETA cohort to start on February 22nd, 2020.
RELATED: INTRODUCING OUR NEW PART-TIME REMOTE IMMERSIVE PROGRAM: Q&A WITH LEAD INSTRUCTOR, SHANE TAYLOR

KEEPING UP WITH THE MODERN TECH SPACE: CURRICULUM UPDATES

At Codesmith, we understand the importance of consistently changing and adapting our offerings to the modern needs of the tech marketplace. This year we added two highly important units into the curriculum of our Immersive programs - DevOps and UI/UX, as well as updated our current Database, Node, and Machine Learning units.
In addition to our core curriculum updates, in 2019 we also revamped our Hack Hour structure. Every morning our students begin the day by solving an algorithm, a skill essential for whiteboarding interviews post-graduation. We also redesigned the learning structure, added in weekly lectures on problem-solving, and updated the algorithm content to be consistent with changes in the industry.
CONTINUING TO PRIORITIZE DIVERSITY AND INCLUSION

Diversity is a top priority for us at Codesmith. Throughout the year, we partnered with We Build Black, Women in Tech International, Lesbians Who Tech, organized implicit bias workshops for students on-site and offered scholarships for those underrepresented in the software engineering industry.
As part of our efforts to close the gender gap in tech, we started women-only workshops, launched a Women's Mentorship Program, and hosted special "Algirlithm" community events for our past, present, and future Codesmith women alumni. Additionally, we recently launched a special Women's Holiday Promo offering our remote JavaScript learning programs for free to anyone who identifies as a woman or non-binary.
We can't wait to continue pushing the limits for the accessibility of a world-class software engineering education in 2020, so keep an out for exciting new things to come!
EMPOWERING BROADER AUDIENCES WITH EDUCATIONAL CONTENT

Another key priority over the past year was to provide more people with opportunities to learn new skills and pursue the career paths they love. We proudly partnered with Facebook, Hulu, IBM, Houzz, and many other prominent organizations to educate our community on the latest technologies through lighting talks, speaker series, and more inspiring events.
TRANSPARENTLY REPORTING ON OUR GRADUATES' SUCCESS

We believe that accuracy and transparency in reporting graduate outcomes is essential. Last year, we continued reporting on our graduates' success after Codesmith and released a new student outcomes report. Click here to take a close look at our Full-time, Immersive students' demographics and their impressive job placement success rates in New York and Los Angeles. During the two reporting periods of 2019, Codesmith was ranked to have the highest median starting salary among all bootcamp programs.
CONTINUING TO GROW AND DEVELOP

Last, but not least, our community considerably expanded over the past year. We were able to host 220 free events and workshops with over 5000 in-person and online attendees.
Additionally, over 250 students successfully graduated our programs and landed their dream mid to senior level jobs in software engineering. We are so proud of these exceptional outcomes and can't wait to keep expanding our community as we head into 2020.
2019 was a big year for our team and our community of students and alumni. Thank you for making our biggest achievements possible and for being part of our incredible journey. We look forward to having an impact on thousands of lives in 2020 as we lower the barrier to learning software engineering through our free resources and expanding program offerings.